See the recorded webinar on digitalization, sustainability, and industrial development.
This webinar emphasized that IndTech is not only about retrieving and sending data from equipment installed decades ago, but also about defining and developing the entire ecosystem and enabling the business model shift that needs to happen to enable industrial digitalization.
The webinar includes interesting presentations by Azimeh Sefidcon from Ericsson (pictured above) & Jonas Uller Billerud from Korsnäs. Industrial digitalization has other requirements than digitalization in other industries due to the great values at stake for each production hour in for example a paper mill or in mining operations. IndTech strive to support development of operational excellence including the capability to predict and prevent. A key message is the need for co-development between academia, industrial leaders, and their suppliers.
See the recorded webinar PiiA Summit 2021 (ldlmedia.se)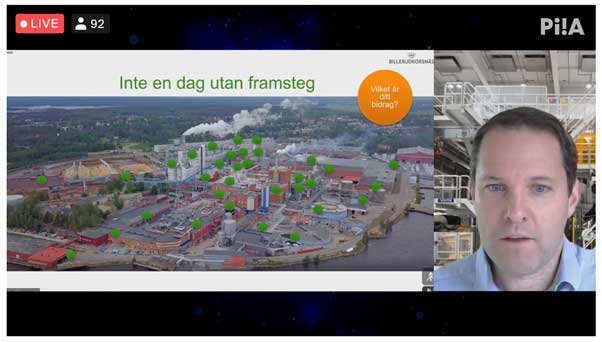 Jonas Uller from Billerud Korsnäs, highlighting that they constantly have many different small and larger digitalization investments ongoing.